Manual programmable radiator
IQ Line Touch combines unique design and advanced technology in a robust steel electric radiator with excellent thermal properties. Thanks to its smart regulation with manual programmable heating mode, and reliable and economic operation, it is ideal for the electric heating of apartments, houses, holiday homes, small hotels, and offices.
MAN mode
After setting of the desired temperature using the = + (plus) and – (minus) buttons, the radiator will heat the room as required.
AUTO mode
It is not economically viable to heat all rooms, including those not regularly occupied, to a comfortable temperature. The weekly program allows for the setting of temperatures according to day and time of day, and  definition of temperature drops. Optimised setting of the weekly program can save up to 35 % on energy costs.
HOME mode
For holidays that require heating outside of the settings of the weekly program, it is possible to use the weekend program. By simply activating the preset program, rooms will be heated to a comfortable temperature during the day and the heating return to saving mode during the night.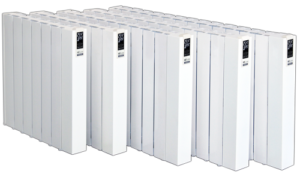 Selected features and characteristics
Selected features and characteristics
Health and safety

Electronic thermal fuse
Yes
Mechanical thermal fuse
Yes
Possibility to limit surface temperature of radiator
Yes
Adjustable
Electronic fuse protection against overheating
Yes
Temperature regulation

Maximum temperature range
5 – 30 °C
PID control with parameter setting
Yes
Adjustable
Temperature lag control with parameter setting
Yes
Adjustable
Temperature sensing accuracy
0,1 °C
Possibility to calibrate temperature sensing
Yes
Heating start optimisation
Yes
Adjustable
Other user-functions

Basic manual mode
Yes
Weekly program
Yes
Daily program
Yes

Adjustable

weekend

program

Yes
Holiday program
Yes
Push button sound alarm
Yes
Adjustable
Button lock
Yes
Automatic switching off of the display backlight
Yes
Backup settings at power failure
Yes
Battery
Service menu
Yes
Return to factory settings
Yes
Power Board and specifications